Janabar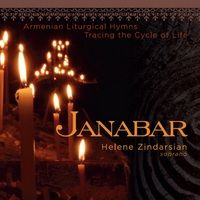 A collection of Armenian hymns tracing the cycle of life. A life's journey, "janabar" in Armenian, is marked by events and transitions that inspire us to seek deeper spiritual connection. We begin our musical journey here with an invocation for guidance. With each successive hymn, we gradually trace the arc of life through birth and baptism; companionship and commitment; transition and loss; death and rebirth. Arranged for voice, cellos, harp, flute and organ.
Nominated for "Best Classical Voice/Opera Solo Album of the Year" by Just Plain Folks Music Awards
In My Father's Garden
Find refuge in the garden…a place so beautiful your only wish would be for time to stand still.
An international collection of songs in English, Spanish, German, and Armenian,
ranging from lesser-known classics to the truly exotic.
Your companions along the garden path include songs by Roger Quilter, Richard Strauss, Alexander Spendiarian, Romanos Melikian, Carlos Guastavino, and my father, Earl Zindars.
A Mother's Love
A heartwarming collection of Armenian lullabies and night songs...tender and soothing music for all ages that transcends cultural boundaries.
Nominated for "Best Classical Vocal Album" by the Armenian Music Awards
"Best Classical Voice/Opera Solo Album of the Year" by Just Plain Folks Music Awards